NAPCON INCREASED MILK POWDER PRODUCTION BY 9% AT VALIO HAAPAVESI
News / 17 Dec 2020
Neste Engineering Solutions' business unit NAPCON has successfully finished an optimization project at Valio's production facility in Haapavesi, Finland. The project was carried out to optimize the factory's milk powder production line with the objective of extending its capacity. The Valio production line consists of three continuously working production units in series. The optimization has enabled a 9% increase in milk powder production capacity. It has also provided Valio with higher efficiency in energy consumption leading to a lower production cost per product. 
Production growth improves energy efficiency
In the project, NAPCON Controller software solution was implemented to Valio's production facility in Haapavesi without any investments in process hardware or interruptions in the production rate. The purpose of this real time automation solution is to continuously reach maximum profits and minimum costs without compromising product quality targets. The achieved production growth also resulted in improved energy efficiency. This all made the investment in NAPCON Controller very profitable for Valio, and the achieved increase in milk powder production corresponds with the estimates done before the project.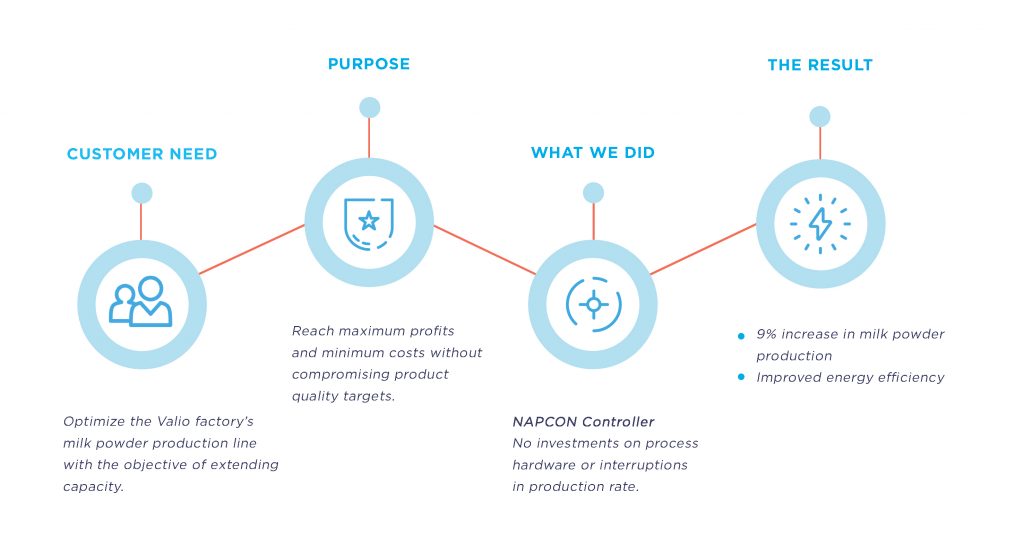 "We are very satisfied with the production increase enabled by the NAPCON Controller at our Haapavesi factory. Our cooperation with the NAPCON team has been smooth and they have been very helpful throughout the whole project. We are currently looking into expanding this project", says Tapani Suutari, Director of Valio Ltd Haapavesi. Andreas Frejborg, NAPCON Head of Customer Relations, agrees: "This was our fourth completed NAPCON implementation for Valio and we are glad to be able to continue our fruitful cooperation."
Neste Engineering Solutions is continuously seeking to grow their clientele globally, as the NAPCON solutions are applicable to a variety of industries: "Our NAPCON software has been proven to work in highly regulated oil and petrochemical industries. However, it can be tailored to optimize any industrial production process. Therefore it is well suited for the food industry, but also a variety of other process industries", reflects Patrick von Essen, CEO of Neste Engineering Solutions.
Previous NAPCON for Valio project cases: 
NAPCON Controller maximizes whey powder productionNAPCON Controller maximizes milk powder production
Further information:
Andreas Frejborg, Head of Customer Relations, NAPCON, Neste Engineering Solutions. Please contact Neste's media service, tel. +358 50 458 5076 / media@neste.com (weekdays from 8.30 a.m. to 4.00 p.m. EET).

Tapani Suutari, Director of Valio Ltd Haapavesi, tel. +358 50 384 1226,

tapani.suutari@valio.fi
Valio in brief
Valio is the largest milk production company in Finland, receiving 85% of all milk produced throughout the country. The main product groups are fresh dairy products, cheeses, greases, juices, milk powders, demineralized whey powders and industrial kitchen products. The company is owned by 18 milk production cooperatives. For more information, please visit valio.fi.
NAPCON in brief
NAPCON developed by Neste Engineering Solutions offers you a wide range of advanced process automation solutions to enhance your production. The dedicated solutions based on extensive process know-how and modern software engineering fulfil your needs in the areas of Production Optimization, Quality Optimization, Safety, Logistics, Business Optimization, Environment and Big Data. NAPCON offers innovative solutions to train operators with simulators and games. napconsuite.com
Neste Engineering Solutions in brief
Neste Engineering Solutions offers engineering, procurement, construction and project management services for the Oil & Gas, Petrochemicals and Bio-industries. Our NAPCON products enhance process industry production optimization, quality and logistics, as well as operator training with simulators and games. We work in close cooperation with our strategic customers and have world-class know-how in technology development and industrial investment projects. In addition to our head office in Porvoo, Finland, we operate in national and international Neste locations such as Naantali, Singapore and Rotterdam, as well as in selected project sites. Neste Engineering Solutions employs over 800 engineering professionals globally. Read more: neste.com/engineeringsolutions

NAPCON LISÄSI MAITOJAUHEEN TUOTANTOA YHDEKSÄLLÄ PROSENTILLA VALION HAAPAVEDEN TEHTAALLA
NAPCON, Neste Engineering Solutionsin liiketoimintayksikkö, on saanut onnistuneesti päätökseen optimointiprojektin Valion tuotantolaitoksella Haapavedellä. Hanke toteutettiin tehtaan maitojauheen tuotantolinjan optimoimiseksi tavoitteena laajentaa maitojauheen tuotantokapasiteettia. Tuotantolinja koostuu kolmesta sarjaankytketystä jatkuvatoimisesta tuotantoyksiköstä. Optimoinnin ansiosta maitojauheen tuotantokapasiteetti on kasvanut 9 %. Se on myös parantanut Valion energiatehokkuutta, ja vähentänyt tuotteen tuotantokustannuksia.
Saavutettu tuotannon kasvu parantaa myös energiatehokkuutta
NAPCON toimitti Valion Haapaveden tehtaalle NAPCON Controller -sovellusratkaisun suunnitellun mukaisesti. Tämän reaaliaikaisen automatisointiratkaisun tarkoituksena on jatkuvasti päästä maksimituottoihin ja minimikustannuksiin vaarantamatta samalla tuotteen laatutavoitteita. NAPCON Controller -ratkaisu toteutettiin ilman investointeja prosessin laitteistoihin sekä ilman tuotantokatkoksia.  Saavutettu tuotannon kasvu paransi samalla myös energiatehokkuutta. Näin ollen Valion sijoitus NAPCON Controlleriin osoittautui kannattavaksi ja maitojauheen tuotannon kasvu vastasi ennen projektia tehtyjä arvioita.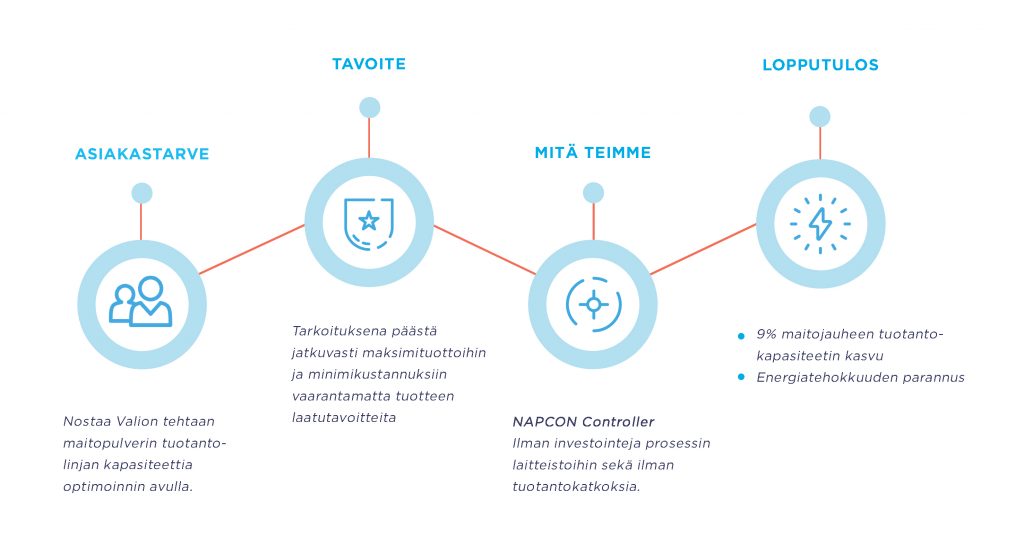 "Olemme erittäin tyytyväisiä siihen, miten tuotantomme on lisääntynyt NAPCON Controllerin käyttöönoton jälkeen. Yhteistyömme NAPCON tiimin kanssa on toiminut erittäin jouhevasti, ja he ovat olleet hyvin avuliaita koko projektin ajan. Tästä syystä olemme suunnitelleet NAPCON Controllerin käytön laajentamista vielä jatkossakin", Valion Haapaveden tehtaan johtaja Tapani Suutari kertoo. "Tämä oli jo neljäs Valiolle toimitettu NAPCON-ratkaisu, ja olemme iloisia voidessamme jatkaa menestyksekästä yhteistyötä heidän kanssaan", NAPCON yksikön johtaja Perttu Tuomaala sanoo. 
Neste Engineerin Solutions pyrkii jatkuvasti kasvattamaan asiakaskuntaansa globaalisti, koska NAPCON-ratkaisut soveltuvat teollisuuden eri toimialoille. "NAPCON-ohjelmistomme toimii todistetusti erittäin hyvin tarkasti säännellyillä öljy- ja petrokemian aloilla, ja se voidaan räätälöidä minkä tahansa teollisen tuotannon prosessin optimoimiseksi. Täten NAPCON-ratkaisumme soveltuu erinomaisesti myös elintarviketeollisuuteen, kuten myös muillekin teollisuuden aloille", kertoo Neste Engineering Solutionsin toimitusjohtaja Patrick von Essen.
Aikaisemmat Valio projektit:
NAPCON Controller maximizes whey powder productionNAPCON Controller maximizes milk powder production
Lisätietoja:
Andreas Frejborg, Head of Customer Relations, NAPCON, Neste Engineering Solutions. Please contact Neste's media service, tel. +358 50 458 5076 / media@neste.com (weekdays from 8.30 a.m. to 4.00 p.m. EET).
Tapani Suutari, Director of Valio Ltd Haapavesi, tel. +358 50 384 1226, tapani.suutari@valio.fi
Valio lyhyesti
Valio on 18 suomalaisen maidontuottajaosuuskunnan omistama yritys, joka jalostaa ja markkinoi pääasiassa maitopohjaisia tuotteita. Valio on Suomen suurin maidonjalostaja ja vastaanottaa 85 prosenttia Suomessa tuotetusta maidosta. Päätuoteryhmiä ovat tuoremeijerituotteet, juustot, rasvat, mehut, maitojauheet ja demineralisoidut herajauheet sekä suurkeittiötuotteet. www.valio.fi
NAPCON lyhyesti
NAPCON johtaa prosessiteollisuuden turvalliseen ja kestävään tulevaisuuteen. Neste Engineering Solutionsin kehittämä NAPCON tarjoaa sinulle laajan valikoiman innovatiivisia ratkaisuja tuotannon parantamiseksi edistyneistä prosessiautomaatioratkaisuista operaattoreiden kouluttamiseen simulaattoreilla ja peleillä. Laajaan prosessiosaamiseen ja nykyaikaiseen ohjelmistotekniikkaan perustuvat erityisratkaisut täyttävät tarpeesi saatavuuden, tuotannon optimoinnin, laadun, energiatehokkuuden ja turvallisuuden aloilla. Lisätietoja on osoitteessa www.napconsuite.com.
Neste Engineering Solutions lyhyesti
Neste Engineering Solutions tarjoaa korkealaatuisia teknologia ja suunnittelupalveluita, sisältäen teknisen hankinnan, rakennustyön johtamisen ja projektinhallinnan öljy- ja kaasualalle, petrokemian-ja bioteollisuuden alalle. NAPCON tuotteemme tehostavat prosessiteollisuuden tuotantoa, laatua ja logistiikkaa kuin myös operaattoreiden koulutusta simulaattoreilla ja peleillä. Työskentelemme läheisessä yhteistyössä strategisten asiakkaidemme kanssa ja meillä on maailmanluokan osaamista teknologioiden kehityksessä ja teollisissa investointiprojekteissa. Porvoossa sijaitsevan päätoimistomme lisäksi toimimme myös kansainvälisesti, kuten Naantalissa, Singaporessa ja Rotterdamissa sekä kansainvälisten asiakasprojektien yhteydessä. Neste Engineering Solutionsin palveluksessa on 800 suunnittelualan ammattilaista ympäri maailman. Lue lisää: neste.com/engineeringsolutions
You might also be interested