NAPCON Controller
NAPCON Controller puts all your potential to use.
NAPCON Controller maximizes both production rate and quality by providing tight control over the process despite difficult process dynamics or disturbances.Fast implementation process and the reliable operation of NAPCON Controller guarantee early return on investment.
NAPCON Controller operator user interface is based on the latest web technology. It can be seamlessly integrated to all modern DCS or SCADA operating environments and facilitates fluent workflow for panel operators.
NAPCON guarantees a fast return on investment through a secure and vendor-independent solution, based on our extensive knowledge on process design, automation and instrumentation.
Use NAPCON Controller for
Benefits for you
SIMULTANEOUS GAINS

Maximizing production rate no longer means compromising quality or energy efficiency - NAPCON Controller allows you to maximize production rate, whilst simultaneously maximizing produces' quality and energy efficiency. Reach new heights in product rate, yields and quality with this state-of-the-art technology!

MAXIMUM PROFIT

We guarantee the best possible return on your investment, fast implementation and short payback time.

HIGH AVAILABILITY

Our experts at your service around the clock, keeping your process stable and in a safe operating window 24/7.

STAY UP-TO-DATE

The NAPCON Controller includes an advanced monitoring and reporting system, making it an excellent tool for indicating process bottlenecks, which require separate actions to increase production capacity.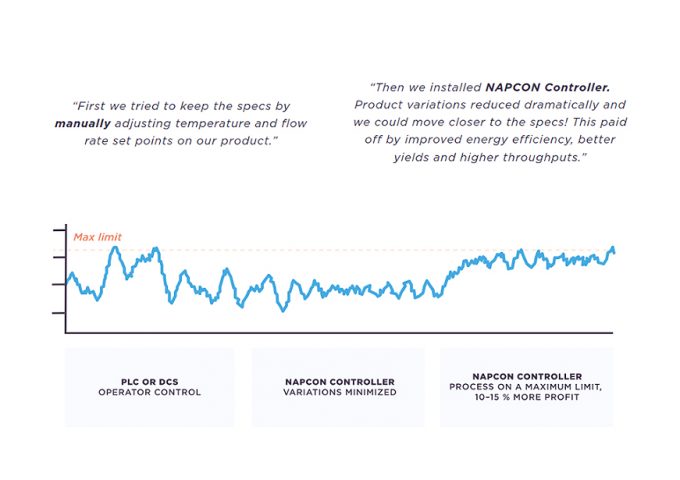 Key features
ADAPTIVE

Due to the built-in robust control method, our solutions react immediately to any changes in production conditions.

WIDE APPLICATION AREA

Due to its wide application area, the NAPCON Controller handles process behaviour and difficult process dynamics elegantly.

FLEXIBILITY

NAPCON Controller's outstanding flexibility allows smooth transitions between product grades and feedstocks.

SCALABLE

The NAPCON Controller is of a scalable and modular design, allowing easy expansion from single unit to multi-unit control, to support your investment and expansion programs.

CONFIGURATION AND MODELLING TOOLS

The NAPCON Controller Configuration Tool and the NAPCON Controller Modelling Tool allow fast and straightforward configuration and modelling processes.

STAY UP-TO-DATE

The NAPCON Controller features an MPC Dashboard, which is an advanced and fully customizable performance monitoring and reporting system, based on the latest web technology.