NAPCON RELEASES NEW GAMES TO THE TRAIN FAMILY
News / 19 May 2020
NAPCON proudly announces the release of new games to the NAPCON Games portfolio. Last year December we released an 8.5 software update, which includes new Games. Today, we are happy to announce that new games are now available for order. The portfolio is now enhanced with new games that cover Heat Transfer, Condensation and Boiling phenomenon. Later this year, free trial versions of new games are coming as well.  
NAPCON provides a unique set of digital education solutions  from on-line serious games to extensive high-fidelity operator training simulator systems through the digitalized learning path. "Our core aim is to provide an optimal solution for efficient and modern training of plant personnel in the process industry", says Perttu Tuomaala, Vice President NAPCON. 
NAPCON Train solutions support continuous learning with digitalized training and engage operators to learn more with gaming. Gamification adds real value to organizational processes. "Playing NAPCON Games Distiller is educational, but also engaging and fun. It is also very realistic and  allows you to train  how to manage real disturbances in the oil refinery distillation process. It has been great being a part of this project and taking on NAPCON Games Distiller at MOL Group", says Levente Töro, MOL Group.
Customers can drive the behavioural change by modernizing operator training and utilizing the benefits of gamification in practice with NAPCON Games. By playing games, you  improve your skills to think fast and solve problems strategically. You also learn to predict and assess upcoming situations. These skills are an essential component in real-world plant operations. To help extend your competence, the new portfolio of NAPCON Games offers you over 380 minutes of playtime with spread across missions varying in process units, difficulty and play mode. 
Join us in our journey to lead the process industry to a safe and sustainable future.
INTRODUCING THE NEW NAPCON GAMES!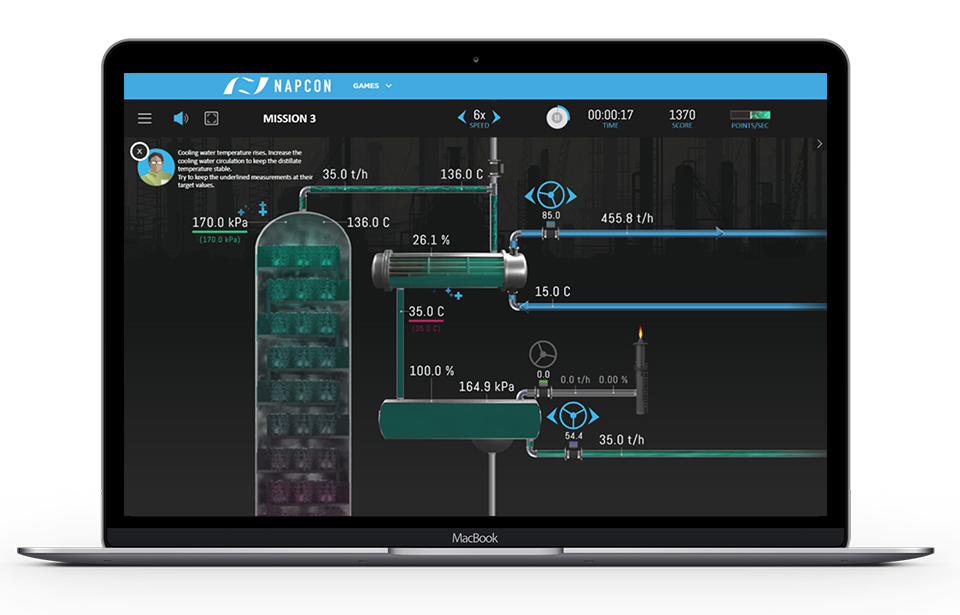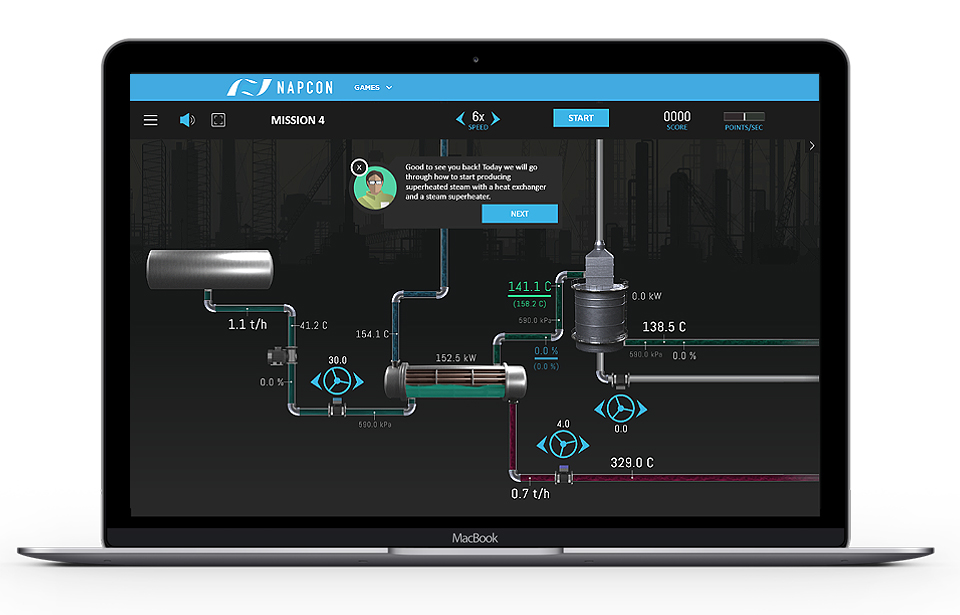 Key Highlights
Over 20 new missions bring you more than 380 minutes of learning playtime.

Missions range from beginner level to advanced, and there are five new sandbox modes for endless training exercises.

NAPCON Games Portal training dashboards provide insight into training results and  efficient and effective management of operator training.

Enhancements to statistics and reporting.

Seamless integration into your existing LMS system.
TAILORED GAMES' ANSWER TO CUSTOMER'S SPECIFIC NEEDS
NAPCON also provides tailored Games based on customer-specific processes and specific educational needs. The game contents are then plant-specific for  your organization.  
COMPETENCE DEVELOPMENT WITH NAPCON LEARNING PATH
Our service, NAPCON Learning Path, is an organization-wide competence development and assessment solution. The combination of NAPCON e-learning, NAPCON Games and NAPCON Simulator  ensures that your plant personnel are ready to operate your assets.
"The learning part was the most rewarding one,  you can actually learn how these controllers work, because you have to act like a controller  does." – Levente Töro, DS Production MOL.
Consult with our experts to help you find the answers to your training-related questions.
More information: 
Further information:
Frejborg Andreas, NAPCON Sales Manager, NAPCON, Andreas.Frejborg@neste.com, 
tel. +358504586712
NAPCON in brief
NAPCON leads the process industry to a safe and sustainable future. NAPCON developed by Neste Engineering Solutions offers you a wide range of innovative solutions to enhance your production spanning from advanced process automation solutions to train operators with simulators and games. The dedicated solutions based on extensive process know-how and modern software engineering fulfil your needs in the areas of availability, production optimization, quality, energy efficiency and safety. For more information, please visit www.napconsuite.com
Neste Engineering Solutions in brief
Neste Engineering Solutions, owned by Neste,  offers engineering, procurement, construction and project management services for the Oil & Gas, Petrochemicals and Bio-industries. We work in close cooperation with our strategic customers and have world-class know-how in technology development and industrial investment projects. In addition to our head office in Porvoo, Finland, we operate in national and international Neste locations such as Naantali, Singapore and Rotterdam, as well as in selected project sites. Neste Engineering Solutions employs over 800 engineering professionals globally. For more information, please visit neste.com/engineeringsolutions
Neste in brief
Neste (NESTE, Nasdaq Helsinki) creates sustainable solutions for transport, business, and consumer needs. Our wide range of renewable products enable our customers to reduce climate emissions. We are the world's largest producer of renewable diesel refined from waste and residues, introducing renewable solutions also to the aviation and plastics industries. We are also a technologically advanced refiner of high-quality oil products. We want to be a reliable partner with widely valued expertise, research, and sustainable operations. In 2018, Neste's revenue stood at EUR 14.9 billion. In 2019, Neste placed 3rd on the Global 100 list of the most sustainable companies in the world. For more information, please visit neste.com
You might also be interested