Digital Refinery: Greetings from the even smaller world – reflections on what IoT enables, in both good and bad
Andreas Frejborg, Technical Sales Manager / 04 May 2018
Writing this as I am heading back home from a business trip to Canada and U.S. I had the pleasure to visit and discuss the hot topics – Industrial Internet of Things and Cyber Security – of today with top notch Oil and Gas companies. Actually, the past year has been very enlightening for me in terms of understanding where our loved industry is currently standing – but more importantly where it wants to go.
Of course, the main concern which this ever more connected world brings is cyber security. I like to tell people, whom I meet that cyber security as such is of course an important topic – but we have to have the tools and guidance to get it done properly. Also the big thing one must remember is that in order to have a decent cyber security in place, it needs daily attention.
One can easily draw an equal sign between process safety and cyber security – they are actually almost 100% equal.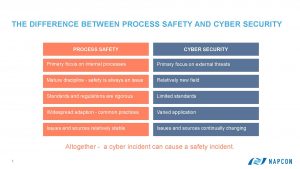 Cyber Security alone is a huge topic for each and everyone of us to digest, understand and bring to action. In general, my first feeling is that – whatever one sets up as a first line of defense – it must be somehow diversified and not a common and general solution that everyone applies. Looking from the hacker and the intruder perspective, the more common solution they phase when penetrating any industrial system, the easier hacking gets over time. I am not saying that every system should have a totally different solution. What I am thinking of is building the intrusion prevention system in layers, where the layers could be in different order. From the intruder point of view, it is like peeling the onion layer by layer. While they do that, any company with a good intrusion detection system and proper mitigation process in place, has time to protect their business.
So where are we heading?
In short, as the world gets smaller – in terms of time to reach vast amounts of information – everyone needs to connect and enable their information sources for rapid decision making.
To add one fancy word more, let me introduce Industry 4.0, the fourth step in the industrial revolution. I personally see it as the outcome of what we in our private life have taken for granted.
I am thinking at all the mobile devices we have nowadays and how we want to be on top of things. For example when ordering something from a web store, we are receiving all the time information on the progress of the delivery. Actually, we not only get information on where the package is – but also a prediction on where it will go next and when it will arrive at your doorstep. This is what new employees entering the process industry are expecting from the industrial system in place. But we all know that those systems based on design decisions made decades ago are not up for that challenge. The technology has changed, as have the behavior or the people.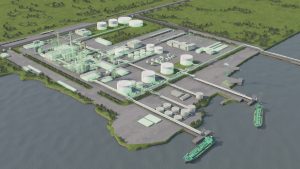 But how to make it happen?
We at NAPCON are continuously involved in making Industrial IoT happen. Our solutions are based on a cyber secure foundation – OPC UA communication protocol, the only one approved  by European authorities. Even more, our NAPCON Informer -fully featured process historian – got certified by the OPC Foundation.
For the past 30 years we have delivered industrial solutions that enable companies in the Oil and Gas industry to take steps on their journey to digitalize production, operations and business as such. Now we are launching the next giant leap, an analytics platform fully loaded artificial intelligence focusing on the need of the process industry – the NAPCON Analytics . We are on the mission to be the forerunner in bringing the process industry the solution they need to achieve competitive edge in the ever rapidly changing world. We call it the NAPCON Digital Refinery.
You might also be interested