A Napconian Summer by Elina Luuppala
Elina Luuppala / 01 Aug 2023
Elina Luuppala works as a summer trainee in the Simulation Engineering team at NAPCON. She is a Master's student in Chemical Engineering at Lappeenranta University of Technology. After summer she has one year of studies left, including some courses and a Master's Thesis. Outside of work and studies Elina likes to go to the gym and spend time with her cat. Read her thoughts below.
When I saw the job advertisement for this position I was immediately intrigued. I was looking for new opportunities and something where I could utilize the knowledge from my studies and grow as an engineer. I had not heard about NAPCON before this and when I asked about NAPCON from some people that had worked in Neste, they all said that they didn't know much about it but everyone that worked there was very intelligent. After the interview for this position and having some other interviews I right away knew that I wanted to work for NAPCON. Luckily, I got selected and am now writing this post.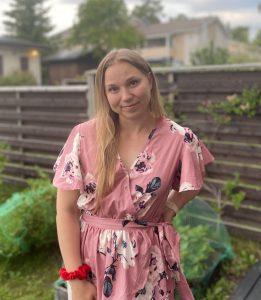 At NAPCON, I am working as a summer trainee in the Simulation Engineering team. I have had the opportunity to participate in different interesting projects where I have been able to use the knowledge internalized from my studies and also to learn a lot of new information and skills. For now I have mostly worked with a project where I have created learning materials for operators working on a Neste site. Before the summer ends I hope to advance my skills even further and apply them in challenging projects. I enjoy the flexibility in this role as I am free to choose which location to work at or to stay remote. Sometimes it is even hard to decide which office to go to, too many options!
However, working full time there has been time for some other activities as well. The #SummerwithNeste events have been a way to network with people from other departments and also to learn more about what is done at Neste. Many summer trainees have returned to Neste again to work for another summer which to me really speaks about the environment here.
Speaking about the environment at Neste, I really got empowered about the self-leadership ideology at Neste; that we are all leaders. For me it is really important that not every decision I make has to be approved by my manager but I have the freedom to take responsibility and lead my own work. Of course not everything has to be done alone, as I get support and help from my manager or co-workers whenever I need it. Not once have I hesitated to ask something that is on my mind. They really do care for the people in Neste, and it is not just great talk. At first I was a bit skeptical as previously I had not experienced such a strong culture inside a company. But now I can truly say that the values, we care, have courage and cooperate are not just fancy talk but really part of the culture everyday at Neste and NAPCON.
Also, for me it is important to work in a company that cares about the environment and thrives towards a more sustainable future. As the production in Neste is planned to be fully carbon neutral by 2035 great actions must be taken. The already done actions, to just name a few, include the electrolyzer development project and growing share of renewable fuels. To me, these are very interesting and also appreciable mitigations to the fossil sources. I like working in a changing environment which is constantly evolving. We can always improve and challenge ourselves to be better both for the environment but also for each other.
All in all, my summer job at the Simulation Engineering Team has been a rewarding journey so far. I've had the opportunity to work on different interesting projects and also learn from and network with new people. As the summer continues, I'm excited to see what new challenges and opportunities will come my way.
You might also be interested