NAPCON successfully supplied a Hydrocracker Training Simulator to Neste's Porvoo refinery
News / 04 Feb 2020
NAPCON has successfully delivered a Hydrocracker Training Simulator to Neste's Porvoo refinery. NAPCON's new training simulator will help train Neste operators to use the complex Hydrocracking unit and help ensure the unit's safe and efficient operation. The opening of the ninth training simulator installed at Neste refineries took place in Porvoo on 14 January, 2020. 
"The training simulators are essential and an important part of Neste's operator training. It is important to us that operators can practice different and unexpected situations in advance that cannot be prepared for. Overall, the cooperation with NAPCON has been excellent. We will continue to develop these simulators together with NAPCON's experts", says Jori Sahlsten, Vice President, Production, Oil Products at Neste.
NAPCON enables operator training with digitalization at Neste refineries 
As a part of its aim to become a global leader in renewable and circular solutions, Neste has set strategic goals for digitalization. NAPCON has been playing a vital role for digitalization at the operating units at Neste's refineries. One such role is ensuring training of the plant personnel with NAPCON Simulator that leads to safe and efficient operations of Neste units. NAPCON has expertise in delivering complex technology simulators that closely match the real plant, and thus play a key role in training the plant personnel. Over the past ten years, NAPCON has delivered nine simulators at Neste's refineries in Porvoo, Naantali, Singapore and Rotterdam. 
"Production at the Porvoo refinery is now relatively stable, so it is really important that the various fault situations can be prepared for with the training simulator. The cooperation with NAPCON staff went smoothly, and we found it very helpful especially during the testing phase, that Teemu Saarinen, Senior Application Engineer at NAPCON, was always involved in the testing", says Mikko Tervonen, Simulator Development Responsible and Main Trainer at Neste.
"The Hydrocracker Training Simulator will also bring unit-related fault situations and familiarization to the new era also for Porvoo's production line 1. The increase in the number of units and the development of automation has led to fewer disruptions and less practical training for individual operators. Thanks to the training simulator we have been able to move from reading written instructions and imaginary training to realistic situations. The training simulators have led to better fault management, also contributing to improved plant safety and profitability. It has been a pleasure to work with NAPCON team and we have been particularly pleased that the installation was completed on schedule", says Paavo Mälkönen, Plant Engineer, Operations, Processing and Manufacturing at Neste.
"I want to thank Neste's Oil Products team for their continued trust towards NAPCON's capabilities in increasing safety and efficiency through modern process operator training with our world-class high-fidelity simulators. I also want to thank our highly skilled and devoted project team for making this delivery a success story", says Perttu Tuomaala, Vice President, NAPCON at Neste Engineering Solutions. 
This delivery is continuation for the previously successfully delivered full-scale Operator Training Simulators. The previously installed NAPCON simulators are integrated into continuous maintenance and are used at Neste's Porvoo refinery core process units and other Neste refineries around the world.
More information on the NAPCON Simulator.
Further information:
Frejborg Andreas, Head of Customer Relations, NAPCON Andreas.Frejborg@neste.com, tel. +358504586712.
Neste in brief
Neste (NESTE, Nasdaq Helsinki) creates sustainable solutions for transport, business, and consumer needs. Our wide range of renewable products enable our customers to reduce climate emissions. We are the world's largest producer of renewable diesel refined from waste and residues, introducing renewable solutions also to the aviation and plastics industries. We are also a technologically advanced refiner of high-quality oil products. We want to be a reliable partner with widely valued expertise, research, and sustainable operations. In 2018, Neste's revenue stood at EUR 14.9 billion. In 2020, Neste placed 3rd on the Global 100 list of the most sustainable companies in the world. Read more: neste.com
NAPCON in brief
NAPCON developed by Neste Engineering Solutions offers you a wide range of advanced process automation solutions to enhance your production. The dedicated solutions based on extensive process know-how and modern software engineering fulfil your needs in the areas of Production Optimization, Quality Optimization, Safety, Logistics, Business Optimization, Environment and Big Data. NAPCON offers innovative solutions to train operators with simulators and games.  www.napconsuite.com
Neste Engineering Solutions in brief
Neste Engineering Solutions offers engineering, procurement, construction and project management services for the Oil & Gas, Petrochemicals and Bio-industries. Our NAPCON products enhance process industry production optimization, quality and logistics, as well as operator training with simulators and games. We work in close cooperation with our strategic customers and have world-class know-how in technology development and industrial investment projects. In addition to our head office in Porvoo, Finland, we operate in national and international Neste locations such as Naantali, Singapore and Rotterdam, as well as in selected project sites. Neste Engineering Solutions employs over 800 engineering professionals globally. Read more: neste.com/engineeringsolutions, napconsuite.com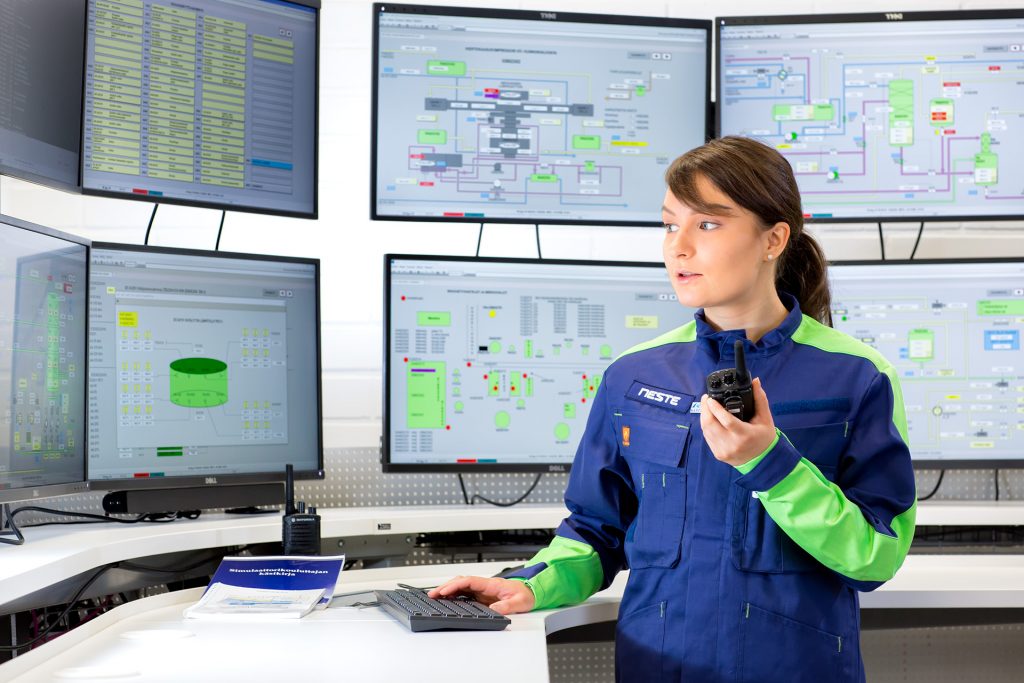 UUTINEN / 03.01.2020
NAPCON toimitti menestyksekkäästi vetykrakkaus -koulutussimulaattorin Nesteen Porvoon jalostamolle 
NAPCON on toimittanut vetykrakkaus (VK) -koulutussimulaattorin onnistuneesti Nesteen Porvoon jalostamolle. NAPCONin uusi koulutussimulaattori auttaa Nesteen operaattoreiden koulutusta monimutkaisen VK-yksikön käyttöön ja auttaa varmistamaan yksikön turvallisen ja tehokkaan toiminnan. Nesteen jalostamoille asennetun yhdeksännen koulutussimulaattorin avajaistilaisuus pidettiin Porvoossa 14.1.2020. 
"Simulaattorit ovat oleellinen ja tärkeä osa Nesteen operaattoreiden koulutusta. Meille on tärkeää, että operaattorit voivat harjoitella erilaisia ja yllättäviä tilanteita etukäteen, joihin ei ole mahdollista varautua. Yhteistyö NAPCONin kanssa on sujunut erinomaisesti ja jatkamme simulaattoreiden kehitystä yhdessä NAPCONin asiantuntijoiden kanssa", kertoo Jori Sahlsten, Nesteen öljytuotteiden tuotantojohtaja. 
NAPCON mahdollistaa operaattorikoulutuksen digitalisoinnilla Nesteen jalostamoissa
Nesteen digitalisaation kehitys on osa Nesteen tavoitetta tulla globaaliksi johtajaksi uusiutuvissa ja kiertotalousratkaisuissa. NAPCON johtaa digitalisaation kehitystä Nesteen jalostamoiden toimintayksiköissä ja NAPCON Simulator auttaa varmistamaan ohjaamo-operaattoreiden koulutuksen, jotta yksiköitä voidaan operoida turvallisesti ja tehokkaasti. NAPCONilla on asiantuntemusta toimittaa tekniikaltaan monimutkaisia simulaattoreita, jotka vastaavat todellista tuotantolinjaa ja ovat siten avainasemassa laitoksen henkilöstön koulutuksessa. Viimeisen kymmenen vuoden aikana NAPCON on toimittanut jo yhdeksän koulutussimulaattoria Nesteen jalostamoille Porvooseen, Naantaliin, Singaporeen ja Rotterdamiin. 
"Nesteen Porvoon jalostamon tuotanto on nykyään melko vakaata, joten on todella tärkeää, että erilaisiin häiriötilanteisiin voidaan varautua harjoittelemalla niitä simulaattoreiden avulla. Yhteistyö NAPCONin henkilöstön kanssa sujui mutkattomasti ja koimme hyväksi käytännöksi, että etenkin testausvaiheessa NAPCONin vanhempi simulaattori-insinööri, Teemu Saarinen oli mukana testauksessa", kertoo Mikko Tervonen, Nesteen simulaattori-kehitysvastaava ja pääkouluttaja.
"VK-koulutussimulaattori tuo yksikköön liittyvän häiriötilanneharjoittelun ja yksikköön perehtymisen uudelle aikakaudelle myös Porvoon tuotantolinja 1:en osalta. Yksikkömäärän kasvu ja automaation kehittyminen on johtanut siihen, että häiriötilanteita sattuu entistä harvemmin ja näin todellisten tilanteiden harjoittelu käy entistä vähemmälle yksittäisten operaattorien kohdalla. VK-koulutussimulaattorin avulla olemme voineet siirtyä kirjallisten ohjeiden lukemisesta ja mielikuvaharjoittelusta todenmukaisiin harjoitustilanteisiin. Tämän on todettu jo aiempien yksikkösimulaattoreiden kohdalla johtaneen parempaan häiriötilanteiden hallintaan, parantaen osaltaan myös laitosten turvallisuutta ja kannattavuutta. On ollut ilo tehdä töitä NAPCONin tiimin kanssa ja olemme olleet erityisen tyytyväisiä siihen, että asennus saatiin toteutettua tavoiteaikataulussa", kertoo Paavo Mälkönen, Nesteen operoinnin, jalostuksen ja valmistuksen käyttöinsinööri. 
"Haluan kiittää Nesteen öljytuotteiden tiimiä jatkuvasta luottamuksestaan NAPCONin kykyihin lisätä turvallisuutta ja tehokkuutta nykyaikaisella prosessioperaattorikoulutuksella maailmanluokan korkealuokkaisten simulaattoreidemme avulla. Haluan kiittää myös ammattitaitoista ja omistautunutta projektiryhmäämme siitä, että tämä toimitus on ollut menestys", sanoo Perttu Tuomaala, Vice President, NAPCON, Neste Engineering Solutions.
Toimitus on jatkoa aiemmin menestyksekkäästi toimitetuille täyden mittakaavan operaattorikoulutussimulaattoreille. Nämä simulaattorit ovat integroitu jatkuvaan kunnossapitoon ja ovat käytössä Nesteen Porvoon jalostamon ydinprosessiyksiköissä ja muilla Nesteen jalostamoilla ympäri maailmaa. 
Lisää tietoa NAPCON Simulaattoreista.
Lisätietoja:
Frejborg Andreas, Head of Customer Relations, NAPCON, Andreas.Frejborg@neste.com, puh. +358 50 458 6712.
Neste lyhyesti
Neste (NESTE, Nasdaq Helsinki) kehittää vastuullisia ratkaisuja liikenteen, yritysten ja kuluttajien tarpeisiin. Autamme asiakkaitamme pienentämään ilmastopäästöjä monipuolisella uusiutuvien tuotteiden valikoimalla. Olemme maailman suurin jätteistä ja tähteistä jalostetun uusiutuvan dieselin tuottaja ja tuomme uusiutuvia ratkaisuja myös lento- ja muoviteollisuuteen. Olemme myös teknologinen edelläkävijä korkealaatuisten öljytuotteiden jalostajana. Haluamme olla luotettava kumppani, jonka osaamista, tutkimustyötä ja vastuullisia toimintatapoja arvostetaan laajasti. Vuonna 2018 Nesteen liikevaihto oli 14,9 miljardia euroa. Vuonna 2020 sijoituimme kolmanneksi maailman 100 vastuullisimman yrityksen Global 100 -listalla. Lisätietoa: neste.com
NAPCON lyhyesti
Neste Engineering Solutionsin kehittämä NAPCON tarjoaa laajan valikoiman kehittyneitä optimointisovelluksia tuotannon tehostamiseen. Tuotteemme perustuvat laajaan prosessiteknologian asiantuntemukseemme ja nykyaikaiseen sovellussuunnitteluun. NAPCON sisältää ratkaisuja tuotannon, laadun ja liiketoiminnan optimointiin sekä turvallisuuden ja energiatehokkuuden lisäämiseen. Tuotteemme tehostavat myös tuotantologistiikkaa, tiedonhallintaa ja vähentävät ympäristövaikutuksia. NAPCON tarjoaa myös uusia tapoja operaattorien koulutukseen simulaattoreiden ja pelien avulla. www.napconsuite.com
Neste Engineering Solutions lyhyesti
Neste Engineering Solutions tarjoaa korkealaatuisia teknologia ja suunnittelupalveluita, sisältäen teknisen hankinnan, rakennustyön johtamisen ja projektinhallinnan öljy- ja kaasualalle, petrokemian-ja bioteollisuuden alalle. NAPCON tuotteemme tehostavat prosessiteollisuuden tuotantoa, laatua ja logistiikkaa kuin myös operaattoreiden koulutusta simulaattoreilla ja peleillä. Työskentelemme läheisessä yhteistyössä strategisten asiakkaidemme kanssa ja meillä on maailmanluokan osaamista teknologioiden kehityksessä ja teollisissa investointiprojekteissa. Porvoossa sijaitsevan päätoimistomme lisäksi toimimme myös kansainvälisesti, kuten Naantalissa, Singaporessa ja Rotterdamissa sekä kansainvälisten asiakasprojektien yhteydessä. Neste Engineering Solutionsin palveluksessa on 800 suunnittelualan ammattilaista ympäri maailman. Lue lisää: neste.com/engineeringsolutions, napconsuite.com
You might also be interested