A Sustainable Future with 4IR and OPC UA
Tomi Lahti / 25 Oct 2017
The ongoing Fourth Industrial Revolution (4IR) offers incredible possibilities, that benefit both the people, and the planet. In other words, 4IR is creating the optimal conditions for emerging technologies to achieve a sustainable future. Having lived my childhood amidst the embodiment of a clean environment – Finnish lakeside nature – it goes without saying, that this is a topic I personally relate to with great passion.
The most boisterous forerunners of the industry are currently stating, rather boldly, that 4IR will enable us to turn the alarming situation of the planet into a victory. The development of interoperable 4IR technologies seems the most fruitful way to influence, and to build a cleaner world for the future generations.
The NAPCON vision
At NAPCON, we share the interest of making it possible for everyone to get more from existing resources. Using existing resources in a more holistic manner – and wasting less – is sustainable, but also supports everyone's economical interests. We have been working tirelessly to develop technologies that are able achieve such possibilities.
For NAPCON and myself as the manager of the NAPCON Understand category products, it is part of our duty as professionals of the industry, to support international efforts like Industry 4.0, and its correspondent counterparts around the world.
There is no Industry 4.0 without OPC UA
As Dr. Christian Mosch wrote in his article for the VDMA, OPC UA is the communication and information model of Industry 4.0. Whilst it is not a new protocol, it utilizes found best practices of the industry.
Through international cooperation, OPC UA has also continuously gained importance as a part of national industrial reference architectures. The most prominent example of this status is the German RAMI 4.0, which recommends OPC UA as the best way for implementing a communication layer.
All this delivers a prominent and generalized message: that in the future, the origin, history, documentation and data produced by each part of an industrial process will be available in an interoperable manner.
There have been several blogs, that 2017 is the year that digital will become ubiquitous. OPC UA, together with 4IR activities, are major paths for industries to achieve digital transformation. At Neste Jacobs that makes us even more proud to point out that NAPCON received the esteemed OPC UA certificate in June 2017.
Combined resources
Above all, collaboration is the most important tool for creating a sustainable future. OPC UA is the framework for industrial interoperability in context of Industry 4.0, and NAPCON is compliant with both. I'm pleased that together with our customers we can now reduce both, their operating costs, and the environmental impact of their plants.
We've already taken up the challenge for a sustainable future – how about you?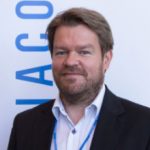 Tomi Lahti
Product Manager
NAPCON Understand category products
You might also be interested