NAPCON Decide services helping customer's decision making
Johanna Vaittinen, Manager, Simulation and Analysis / 20 Mar 2018
When was the last time that you had challenges in making up your mind – making a decision? Decision making can be cumbersome. There are many kinds of reasons behind decision making and decisions can be made also based on the project, national or organizational manner. If the decision has to be justified to other stakeholders, a decision based on gut feeling is difficult to reason. Often other interested parties have to be convinced about the grounds and line of reasoning.
Heavy industry sites are full of processes operating in non-transparent pressure vessels, insulated pipe lines etc. The operator and the plant engineers expect that the plant and its equipment functions as designed, which however, is not always the case. Finding the root cause and remedy for possible deviations from the design behavior can be challenging.
When the devices operate at high pressures and temperatures, are opaque and there is scarce experimental data available, it is burdensome to understand how the process is actually performing. The question is: does the process operate as designed? If the answer is yes, was the process properly designed? The bulk process design can be satisfactorily carried out by standard process engineering tools based on ideal flow profiles, relatively simple correlations and steady state process models. However, for critical equipment and for extremely high conversion, efficiency or yield requirements, deep understanding on the process and in particular, the effect of hydrodynamics and flow field on equipment and plant performance is essential.
Napconizing process design to visualize the invisible
The NAPCON Flow Dynamics complements the traditional process design for the most critical equipment or scenarios. With the help of CFD (Computational Fluid Dynamics) and Dynamic Simulation it is possible
Avoid pitfalls of the final design
Understand even the unexpected
Verify the process engineering tools
CFD and Dynamic Simulation analysis can be extremely helpful in reducing time to market and designing a better quality product. By performing numerical studies early in the design phase, we can simulate the behavior of several full scale designs under a wide range of operating conditions, all before the first physical prototype is even built, leading to:
Reduction in physical testing costs
Less major design changes late in the development process
Better understanding of how products behave in the real world
Product optimization
CFD and Dynamic Simulation are best used in cases where the product behavior cannot be calculated using conventional calculations or it cannot be studied experimentally. This helps to "visualize the invisible".
NAPCON Flow Dynamics assists in re-thinking the Design phase. The models are always tailored for client needs in order to verify most efficient completion of the design phase. Simulation results are always accompanied by thorough analysis from the client point of view. Customer benefits include improved safety, increased yield, accelerated innovation cycle and reduced lifecycle costs. In NAPCON we have access to all engineering disciplines under the same roof with Neste Engineering Solutions, which results in smart resolutions based on real life process understanding.
Customers who have selected NAPCON Flow Dynamics, have solid ground for the process design process. Through NAPCON Flow Dynamics, they understand the complete picture from small details to larger-scale phenomena. Our customers can hence make decisions based on understanding: they do not merely trust in their gut but they trust NAPCON.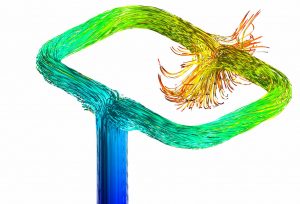 You might also be interested