NAPCON Product release 8.4.
Release 8.4 new features and updates to the existing ones
Understand
NAPCON Informer
Highlights
Easy data replication between on-premises, cloud and hybrid installations
Simple UA Server user management and authentication
Information Manager trend improvements and automatic trend scaling
Improved user management and authentication
Tracked variable communication improvements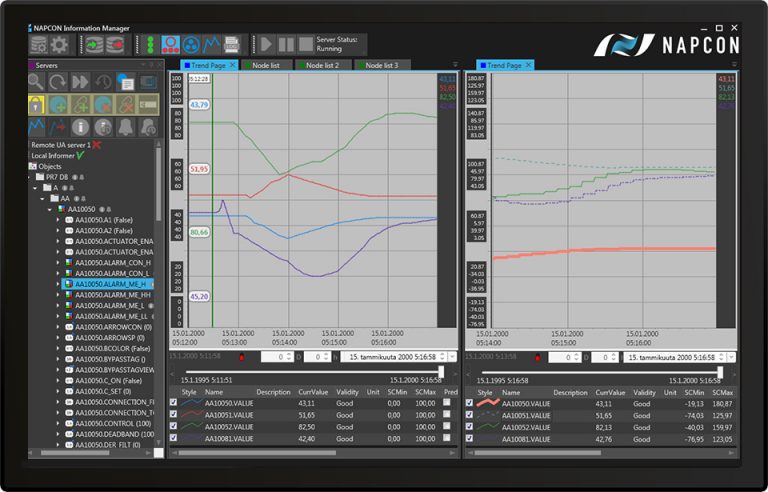 NAPCON Analytics
Highlights
Analytics UI
Autoscale UI from mobile to desktop
Updated look with NAPCON styles
New visualization panels for process industries – NAPCON Table
New custom plugins for data sources (Oracle + other SQL)
New NAPCON Table for process industry operational visualizations
Non-polling data fetch from calculation engine
Return type usage improvements for Calculation Engine
Automated tests set with RobotFramework/Selenium
Calculation Engine
One dimensional OPC UA arrays support
Additional OPC variable datatype support
Variables, their values and types as return value
OPC UA server connection disturbance logging
Docker container pool for fast calculation execution
Fast OPC UA variable search with caching
Speed optimizations
Extended OPC UA support
Concurrent GET "Engine/Diagnostic/InfrastructureIsReady" requests for fast executions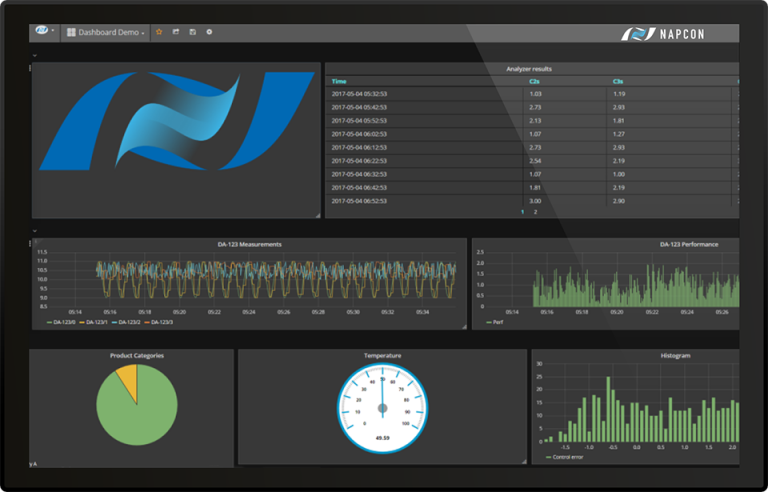 Improve
NAPCON Controller
Highlights
Configuration Tool
General usability improvements
Added automatic simulation model generation based on the control matrix.
Added recipe support for database based controller configuration to support different operation and production modes.
Model Validator (New):
New software application, Model Validator, which monitors control model accuracy and indicates if a model needs to be re-identified or tuned
Model status are conveniently displayed in a control matrix defined by the controller configuration
Modelling Tool:
General improvements to the usability and simplifications of the model identification process
Added database connection support for model identification using data from historian
APC Dashboards:
Added matrix view for the indication of MV / CV performance for better insight into the controller performance
Added support for user defined KPI for separate variables
Controller Testing Platform (New):
Automatic controller testing capabilities
Large variety of controller performance test scenarios for automatic controller testing
Train
NAPCON Simulator
Highlights
Trainer Dashboard
The new generation trainer user interface is now available for private cloud simulator.
New training class map for easy set-up of a flexible training room for various training sessions.
Training functions
New fault triggering options for motors, pumps and valves have been added.
Added support for electrical fault scenario.
Improved process variable drag and drop features on history trends.
Improved configuration options to control available trainer functions and visibility in user interface.
Training functions unification for all available emulated user interfaces.
Operator user interface
Improved touch screen support for soft switch panels.
Added support for multiple tabs of process diagram displays inside same user interface window.
An additional emulated user interface option available.
Added support for special simulator out-of-scope coloring for all display elements.
Dynamic simulation engine
Improvements for thermodynamics calculations
Search system improvement to look for model contents based on metadata
Contents expansion and restructuring in the integrated help system
New membrane separation model for membrane split object
New feature to include metadata in simulation models
New tutorials for process and automation modeling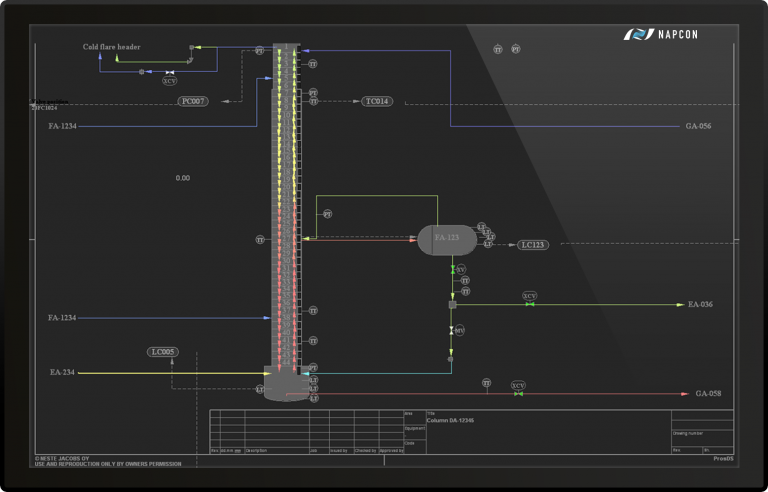 NAPCON Games
Highlights
NAPCON Games Portal
Admins can now view individual report cards of the trainees
Admins can now export and print pdf report cards
Upgraded visual appearance
Portal optimized for mobile users
Redesigned architecture now supports multiple games
Printable statistics (PDF)
Redesigned UI
NAPCON Games Furnace
A new game for industrial furnace operating
Educates the basic theory and causalities with gamified operating and fault scenarios
Innovative narrative based missions that instruct, test and give feedback with rapid loop
Realistic and dynamic visualization shows equipment structures and vivifies the rousing flames
9 Missions
5 Achievements
In-game educational content with tooltips and info boxes
NAPCON Games Distiller
New and improved missions
Control strategy guidance feature
UI optimized for large touch screen devices
Tablet device compatibility