Play NAPCON's new Furnace game now.
NAPCON hosted an online Operator World Cup during 2018, which created lots of interest. Operator World Cup is an online competition for process operators and other industry professionals. Even if  the competition is over now, you can still try the NAPCON Games Furnace game for free.
The campaign was a success and it has finished.
2018 Operator World Cup LEADERBOARD
AGUS ST

696177

Herlambang

669495

TheHoff

662000

brko

621688

pontoh

546298

furnaceMaster666

491404
Mc Flury

480710

Naizar Store

417671

rohimin

404376

adit

364514

Mohammed Alenany

314897

OranGe08

279815
sebnoe1

277199

Viktor

276799

andi zulfadillah

272871

Adenya Bocah

272871

Marian

269204

Slovnaft

262800
Introducing NAPCON Games Furnace
The third release of NAPCON Games, Furnace is a simulation-based game. With NAPCON Games Furnace, operators and other industry professionals are able to enhance and test their skills in industrial furnace principles and operating. Playing is easy, fast and exciting, with carefully designed features.
Play now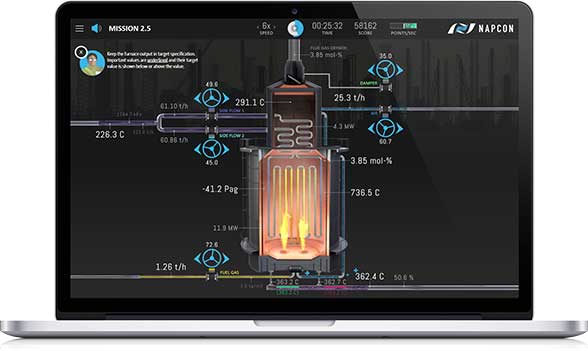 2018 Operator World Cup
The 2018 Operator World Cup was played online. The best operators won semifinals each month and the best of the best won the whole Operator World Cup. The best three (3) players of each month won a one (1) month / five (5) person license to both NAPCON Games Furnace and Distiller.

Playing NAPCON Games Furnace as part of the Operator World Cup was a nice and helpful learning opportunity. I hope this game will remain available and be developed further, so that operators can expand their abilities in operating a furnace, or other processes. Thank you!